Program
*Full session descriptions can be found below the agenda.
2 premium sessions available at our Pre-Summit event. Bundle and save! More information on these sessions here.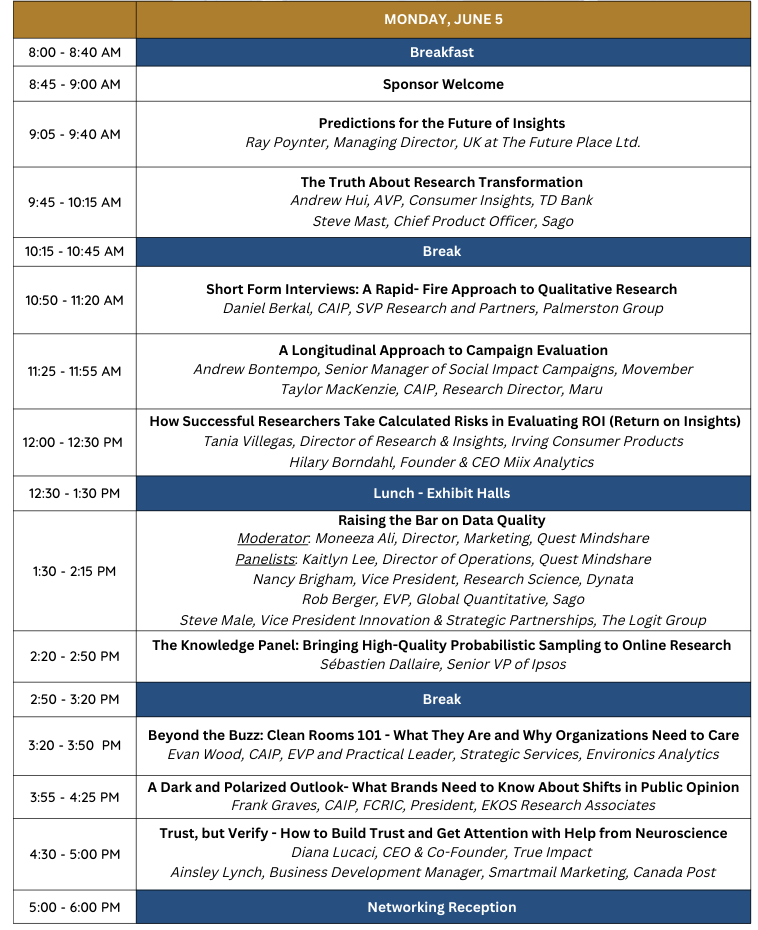 How to Design Questionnaires That People Want to Answer (Pre-Summit Workshop)
Presented By: Annie Pettit, Annie Pettit Consulting 
If you want people to give you complete and honest answers about all aspects of their public and private lives, you need to create a research environment that shows them they are trusted, respected, and engaged.
In this highly interactive masterclass, you will learn about the psychology of answering questions and how to apply that knowledge in a practical way to questionnaire design. We will learn to create questions that make people feel valued and respected, that accommodate normal human behaviours no matter how strange those behaviours may be, and that make people look forward to participating in the next research project.
Finding and Communicating the Story in the Data (Pre-Summit Workshop)
Presented By: Ray Poynter, Managing Director, UK at The Future Place Ltd.
Data has become more extensive, more diverse, and more complex. However, the time and resources available to find the right story from the data have become shorter. Unless you are an intuitive genius, you need a method to find and communicate the right story in the data. In this half day course, Ray will share a framework and tools to confidently and reliably work with information sets to find and communicate valuable solutions.
Predictions for the Future of Insights
Presented By: Ray Poynter, Managing Director, UK at The Future Place Ltd. 
Insights industry leader and futurist, Ray Poynter, will lead off the summit by sharing his predictions for the future of insights.
Ray will examine:
-the impact of current economic trends including inflation and rising interest
-how the rise of AI, ChatGPT, Web 3, automation and the metaverse will transform the work we do
-the impact of the global talent shortage
-risks related to data quality and how we can manage them
-growth opportunities of insights
A Longitudinal Approach to Campaign Evaluation
Presented By: Andrew Bontempo, Senior Manager of Social Impact Campaigns, Movember
                             Oliver Jones, Senior Research Manager, Maru/Matchbox
In the fall of 2022, Movember launched its DOAT campaign, designed to promote mental health among young men across Canada and encourage them to appreciate the benefits of self-care and establish healthy self-care habits. Partnering with Maru, Movember was able to track attitudes, perceptions and behaviours utilizing Maru's Instant Qual software to build a longitudinal panel of 120 young males from low-income households over a three-month period. The study captured changes in these attitudes and behaviours among those who were naturally exposed to the campaign as well as among different exposure "dosages", alongside a control group for validation. The program rendered insightful, innovative results for Movember in identifying audiences' overall reactions and feedback to the campaign – and how Movember can leverage those results in the future.
The Truth About Research Transformation
Presented By: Andrew Hui, AVP, Consumer Insights, TD Bank
                             Steve Mast, Chief Product Officer, Sago
Market research underwent tremendous transformation over the past 10 years, from the automation of quantitative research to the digitization of qualitative research to the advent of artificial intelligence. These changes impacted what it means to be an insights professional and how brands and market research firms alike operate. While the change is far from complete, there are critical lessons that should inform our next steps. Join Sago's Chief Product Officer Steve Mast and Andrew Hui, Associate Vice President of Consumer Insights at TD Bank as they identify these critical lessons and what to consider for the future of market research.
Raising the Bar on Data Quality
Moderator: Moneeza Ali, Director, Marketing, Quest Mindshare 
Panelists: Kaitlyn Lee, Director of Operations, Quest Mindshare 
Nancy Brigham, Vice President, Research Science, Dynata 
Rob Berger, Executive Vice-President, Global Quant, Sago
Steve Male, Vice President Innovation & Strategic Partnerships, The Logit Group
Quality data is essential for delivering the insights businesses and organizations need to make the best decisions.  In this panel, leading online research experts will explore some of the threats to data quality and share best practices for both buyers and sellers of online sample that will raise the bar on data quality.  Some of the topics the panel will cover include:
-The Respondent Experience – how can insights professionals deliver an engaging and rewarding experience that encourage individuals to provide quality responses?
-Sample frames (consistency/transparency) –  What questions should buyers of sample being asking sample providers to ensure consistency in samples?
-Data cleaning and fraud detection – what measures are being taking to clean data to ensure only quality responses?
The Knowledge Panel: Bringing High-Quality Probabilistic Sampling to an Online Research Panel
Presented By: Sébastien Dallaire, Senior VP of Ipsos
One of the core themes of this year's CRIC Future of Insights Summit is one of the main challenges faced by the research industry: data quality. Members' data collection efforts have been directly impacted by rapid changes in communications technologies and commodification of data. On the one hand, technological advances and changing behaviours have created new opportunities for data collection, expanding our collective ability to collect consumer data in a fast, cost-effective and accurate manner. For much of our market research needs, technological changes have therefore improved our data collection capabilities.
However, our changing communications environment has also challenged the core scientific underpinnings of quantitative research that requires near perfect population coverage using single-mode data collection. Challenges include concerns over non-response biases, lower-quality sampling frames and fraudulent responses. Industry members are constantly working at providing innovative solutions to improve data quality and Ipsos has been at the forefront of those efforts.
In this presentation, Sébastien Dallaire of Ipsos will talk about an innovative, probabilistic sampling solution developed by Ipsos, the KnowledgePanel®. The KnowledgePanel allows for the conduct of online data collection using a probabilistic recruitment method that maximizes population coverage and provides improved access to hard-to-reach populations. To recruit offline populations and allow them to participate in online research, we also provide them with Internet access and connected devices needed to answer surveys.
KnowledgePanel has been on the leading edge of online research in the United States and United Kingdom for many years and is now being deployed across other key markets worldwide. Backed by scientific design and statistical rigor, it provides consistent high-quality measurement. Because of its scientific underpinnings, KnowledgePanel is singularly suited for high caliber research that requires the most precise population coverage and inference, while wanting to retain the core advantages of online research. This includes public health agencies, academic researchers, tech companies, government departments and research institutes such as the Pew Research Centre, which has been a Knowledge Panel user for many years.
Short Form Interviews: A Rapid-Fire Approach to Qualitative Research
Presented By: Daniel Berkal, CAIP, SVP Research, and a partner at Toronto's "The Palmerston Group"
The pandemic brought new realities to the world of market research. In terms of timing, technology and client needs. In this session, we will discuss our novel approach to using targeted short form interviews, a rapid-fire method developed in response to these changes. We will showcase how this approach has enabled us to quickly turn around evocative, sharp deliverables and provide immediately meaningful affordable insights to clients. This session will explore the benefits of using short form interviews, including its focus on speed, its ability to provide more authentic responses, and its ease of production. We will also discuss when and why this approach is appropriate, and how it can be used in a variety of situations, such as concept tests, creative direction guidance, and pitch work.
Trust, but Verify – How to build trust and get attention with help from neuroscience
Presented By: Diana Lucaci, CEO & Co-Founder, True Impact 
                             Ainsley Lynch, Business Development Manager, Smartmail Marketing, Canada Post
The success of a brand relies heavily on understanding not only spoken customer preferences, but also the elements that captivate attention and trigger emotion. The creative execution is responsible for as much as 50% of sales outcomes. Optimizing your message is no longer a nice to have, it's become standard practice.
During this session, Diana will explain gaps in current customer understanding, some technology options and multiple case studies with results from both the B2C and B2B world.
Join us to learn:
What is the impact of good visual design on the brain?
What are the most efficient and effective ways to advertise on various channels?
What are the key factors that drive user receptivity and purchase intent?
Beyond the Buzz: Clean Rooms 101 – What They Are and Why Organizations Need to Care
Presented By: Evan Wood, CAIP, EVP and Practice Leader, Strategic Services, Environics Analytics 
Disappearing third-party cookies, the deprecation of mobile location signals, the emergence of 'walled gardens' and strengthening privacy legislation create the imperative for organizations to find new and innovative ways to leverage their first-party data for customer acquisition and insights.
Enter data clean rooms: the emerging privacy-compliant environments for first-party data collaboration and activation between advertisers, agencies, publishers and media platforms. These clean rooms hold great marketing promise and the potential for exciting outcomes. Understanding what they are and how to use them will be critical for all stakeholders in the months and years ahead.
Join Environics Analytics expert, Evan Wood, as he explores:
What is a clean room, and where does it fit in the marketing toolkit?
Key use cases and applications, including a peek inside the recently launched EAVault
Improving ROI across the client journey and path to purchase
Unlocking insights beyond the obvious – mergers & acquisitions, sponsorships, and other opportunities
A dark and polarized outlook – What brands need to know about shifts in Public Opinion
Presented By: Frank Graves, CAIP, Hons BA, MA, FCRIC, President, EKOS Research Associates
Using finding from research conducted using the Probit Panel, Frank will examine majors shifts in public opinion that will impact how Canadians engage with brands and institutions.  How have views shifted on the outlook for the economy and how do those views correspond to reality?  What impact has the increasing spread of disinformation and misinformation had on public trust?  How have views on issues such as the pandemic, the war in Ukraine, the economy and climate change increased polarization.   Attend this session to learn about these major trends and what they mean for marketing and insights professionals.
ROI – What are the best practices for demonstrating the value of investing in insights.
Presented By: Jasmine Sachdeva, Director of Insights & Analytics, Arterra Wines
                              Hilary Borndahl, Founder & CEO of Miix Analytics
Join experienced researchers, Tania Villegas and Hilary Borndahl as they share their collective experience in calculating ROI-Return on Insights. What do we know about taking risks? Fear causes the overestimation of risk, while the absence of fear causes underestimation. In Insights, we can balance emotion with logic, and apply clear guiding principles at the onset of research projects with KPIs to evaluate the returns necessary to defend the research budget. As a 20+ year veteran of ROI methodologies, Hilary Borndahl, the Founder & CEO of Miix Analytics, will share various techniques to calculate ROI. Tania Villegas will share the action steps required on the client side to communicate and defend ROI to your internal stakeholders.
Leveraging A Voice of Market Program to Deliver Meaningful Outcomes for Canadians
Presented By: Jacqueline Campbell, Vice President, Maru
                            Michael Moses, Product Marketing Lead, ParticipACTION
Maru, an insights software and advisory services company, has worked with ParticipACTION since the early 2000's. This presentation will showcase the insights and tangible successes that ParticipACTION achieved while using Maru's Voice of Market solution (a software and services package that allowed ParticipACTION to work leverage all of the tools in Maru's Hub ecosystem with flexible support as needed to stretch budget, build capacity and enable agile insights). This robust Voice of Market (VoM) program has been used to continually test various thought leadership topics, brand relevance, engagement strategies, and sponsorship evaluations.
Shopper conversion analytics to drive end to end impact
Presented By: Julie Anne Philip, Director Customer Strategy, Mondelēz International
                            Mike Moussallem, President, Explorer Research 
One of the questions, we often face in the world of insights is to tangibly demonstrate the impact and revenue generated through the investment.  Join us as we showcase a case study in accelerating brand growth through organizational partnerships, a deeper understanding of retail tension points and the power of shopper insights to strengthen customer partnerships and accelerate the ROI of insights.
The Role of AI in Insights now and in the Future
Presented By: Steve Mossop, CAIP, Executive VP of Leger Vancouver
Join Steve Mossop for a presentation about how AI tools have been perceived and embraced by Canadians overall in terms of awareness, usage and perceived positives and negatives in society.   Learn how Leger is incorporating new AI tools in its business from Chat GPT throughout the organization to the latest in facial recognition software to test everything from ads to websites and learn how we are leveraging these tools now and in the future.
Researcher in the Loop: The MR Profession in the Age of AI
Presented By: Brenden Sommerhalder, VP, Client Development & Innovation, MQO Research
Artificial intelligence tools are changing the world, and the market research industry along with it – are you ready to adapt?  The rise of AI-powered automation has introduced new efficiencies and "superpowers" for the industry, but it has also brought new pressures and challenges; pressures to evolve our service offerings to compete and provide value, and challenges such as the proliferation and increasing sophistication of bots infiltrating online research methods.
In this talk, we will explore the value of what AI researchers call the "human in the loop" approach to working with AI, and how embracing this approach can enhance the value we deliver to our clients as expert market researchers and the sophistication with which we can protect the integrity of our research from bad actors.
We will share real-world and replicable examples of how AI tools, in the hands of seasoned but open-minded market researchers, can be layered on top of existing tools and methodologies to augment our research, and to help automate some "grunt work" steps in our processes so that we humans can spend more time doing what we do best – delivering the insight.
The use of AI in market research is still in its earliest stages; but not for long. Understanding these tools and establishing a role for "the researcher in the loop" is crucial for the future of the industry not only for delivering innovation and value to our clients, but also in fulfilling our role as gatekeepers of high-quality, valid research outcomes.
Can the Metaverse enhance life experiences and build global brands? Results of a survey of consumers and marketers
Presented By: Lori Reiser, CAIP, Principal Consultant at Advanis
                        Ryan Levitt, Vice President Communications at Sitecore
The term "Metaverse" first appeared in the 1992 novel Snow Crash. Back then, it described a theoretical concept, the author's vision of how the internet could evolve toward a virtual-based reality. Fast forward 30 years and the Metaverse is no longer the stuff of science fiction. Technologies have advanced, and it's now easier and more enjoyable than ever for people to experience 3D virtual reality via a browser or headset.
But does that mean it's time for brands to get involved with the Metaverse? Should marketers start connecting with consumers in this virtual environment?
To begin to answer those questions, Sitecore and research partner Advanis surveyed both consumers and marketers about their perceptions of — and expectations for — the Metaverse. The results of this research were quite illuminating and can be taken as a signal that, yes, it is time for marketers to start exploring this new frontier.
Human versus Machine: Using AI for Good
Presented By: Susan Seto, Senior VP, Market Strategy, Environics Research
Sarah Roberton, VP, Corporate & Public Affairs, Environics Research 
Technology has always moved quickly, but the acceleration of AI is another level altogether. The speed of change means it is already too late to "plan ahead". We need to wrap our heads around how to leverage AI's benefits now or risk being left behind – and made redundant to machines!
Despite the urgency, it is equally incumbent on us to be thoughtful in our approach to AI, and build on its potential for good: Where is the line we are going to draw between taking advantage of what is good for us as research providers without exacerbating the (possibly unavoidable) negative impacts of AI – for us but also for clients, research participants, and individuals and communities impacted by our research? We must be accountable as stewards for the use of AI by the research industry. What guideposts should we keep at the forefront of our actions, to shape how we innovate and grow in step with AI, while remaining true to our established values as an organization and as representatives of the industry?
Will AI bring our industry a brave new world of better, faster, and cheaper?
Presented By: Kathy Cheng, Founder & CEO of Nexxt Intelligence
                             Steve Male, Vice President of Innovation & Strategic Partnerships, the Logit Group
Generative AI, such as ChatGPT and now GPT4, is said to be the game-changer for many industries. What about market research?
Conversational AI is a concrete example of applying the revolutionary potential of generative AI to market research. The Logit Group and Nexxt Intelligence conducted Research on Research (RonR) projects to understand the impact of generative AI. The results will shape how research and insight professionals use AI, and specifically in this case – conversational AI – to drive decision-making and budget choices. In this session, we will share the RonR findings, which will help answer some of the key questions that market researchers have about the use of conversational AI in surveys, such as:
Does conversational AI help generate deeper insight compared to conventional use cases?
Does conversational AI help build engagement, thus impacting the economics of panel management and respondent fatigue?
Does conversational AI help with overall survey quality?
How good can conversational AI probing be?
Is conversational AI probing better than a generic follow-up question, such as "Can you elaborate?"
Do survey participants like typing their answers, or do they prefer checking the boxes?
Does conversational AI probing have to work in a conversational format? Could it be used to enhance standard surveys?
Does the impact of conversational AI vary by research audience?
Is conversational AI all about asking questions? What about coding and analytics?
Join us for a deep dive into the impact of conversational AI in market research. Learn the benefits of blending qualitative capabilities with quantitative surveys. And discover how conversational AI helps elicit more considered responses, differentiated findings, and actionable recommendations as a result.
Reinventing Innovation: The Perfect Blend of Qual and Quant
Presented By: Patricia King, EVP of Qualitative, Dig Insights
                       Jasmine Sachdeva, Director of Insights & Analytics, Arterra Wines
The expectation is that this community will serve as a key touchpoint for them with members of their core market. In this fireside chat, Patricia King  and Jasmine Sachdeva discuss the approach, the benefits of this novel type of qualitative research, and how they expect this to impact the business.