Recognition
Membership in CRIC demonstrates your organization's dedication to exploring leading edge practices in research, insights and analytics. It also demonstrates your commitment to following the highest standards and ethics. All members are recognized through inclusion in the CRIC member directory.
CRIC Accredited Agency
All CRIC agency members are encouraged to pursue accreditation. Accreditation demonstrates the highest commitment to following best practices and the highest standards and ethics. An accreditation process is being developed and will be available in the fall. Agencies will be required to participate in a third-party audit every three years. The audit will provide an independent review of key practices with a focus on the collection, use and storage of data. Upon successful completion of the audit, agencies and will earn the right to display the CRIC accreditation seal on their website and in their marketing. Current CRIC Accredited Agencies are encouraged to download the seal and display it on their firm's website, in marketing materials, in proposals and in reports.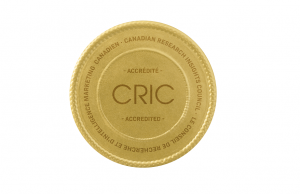 Certified Analytics and Insights Professionals (CAIP)
CRIC endorses and supports CAIP Canada and the Certified Analytics and Insights Professional (CAIP) designation. All professionals seeking to build a career in analytics and insights are encouraged to pursue the CAIP. Visit the CAIP Canada website for additional information.