Why Join CRIC?
Powerful Advocacy
CRIC is Canada's voice of the Research, Insights and Analytics profession both domestically and globally.  CRIC advocates with regulators for sound policy and regulations that encourages a supportive environment for research, insights and analytics.  We protect the public interest by promoting practices that protect personal information and require consent for its use.  We offer the CRIC Research Verification Service as a tool for the public to verify the legitimacy of research and share their feedback and concerns.  CRIC promotes participation in research as an effective way for Canadians to influence government policies and programs and help businesses offer products and services that better meet their needs.  CRIC also support the media and offers resources and standards to help them assess the quality of research. CRIC represent the profession internationally through partnerships with global and international research associations including ESOMAR.
Standards and ethics
Following best practices and adhering to the highest standards and ethics is critical to the reputation of the profession and is a requirement to be a member of CRIC. CRIC has adopted the ICC/ESOMAR International Code on Market, Opinion and Social Research and Data Analytics. The standards are regularly updated to ensure they represent global best practices.  Agency members are required to endorse the ICC/ESOMAR code and all members are required to support and follow these standards.
CRIC has also issued Public Opinion Research Standards and Disclosure Requirements to promote transparency and the highest standards of practice for companies that research results into the public domain
CRIC also supports the ISO 20252:2019 and will require all agency members to self-assess against these standards once they are available in both official languages.
CRIC is is also supporting ESOMAR in the development of international guidelines and will develop additional standards and guidelines as required to address Canadian specific requirements.
Recognition
Membership in CRIC demonstrates your organization's dedication to exploring leading edge practices in research, insights and analytics.  It also demonstrates your commitment to following the highest standards and ethics. All members are recognized through inclusion in the CRIC member directory.
CRIC Accredited Agencies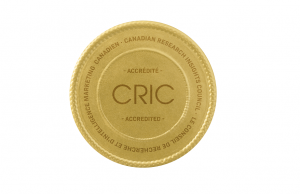 All CRIC agency members are encouraged to pursue accreditation.  Accreditation demonstrates the highest commitment to following best practices and the highest standards and ethics.  An accreditation process is being developed and will be available in the fall.  Agencies will be required to participate in a third-party audit every three years.  The audit will provide an independent review of key practices with a focus on the collection, use and storage of data.  Upon successful completion of the audit, agencies and will earn the right to display the CRIC accreditation seal on their website and in their marketing. Current CRIC Accredited Agencies are encouraged to download the seal and display it on their firm's website, in marketing materials, in proposals and in reports.
Certified Analytics and Insights Professionals (CAIP)
CRIC endorses and supports CAIP Canada and the Certified Analytics and Insights Professional (CAIP) designation.  All professionals seeking to build a career in analytics and insights are encouraged to pursue the CAIP.  Visit the CAIP Canada website for additional information
Member Services
Thought Leadership
The rise of big data, automation and artificial intelligence are among the key trends shaping the future of the research, insights and analytics industry.  Advances in technology are disrupting traditional methodologies and creating new methodologies that are driving the continued growth of our sector. CRIC is establishing Thought Leadership Councils to help the industry be at the forefront of these major trends.  These councils will comprise leaders from both clients and agencies who will explore what's next and share actionable recommendations that will help all members stay ahead of the trends.  Interested in participating on a thought leadership council? E-mail CRIC for more information.
CRIC Research Verification Service
The CRIC Research Verification Service allows the public to confirm the validity of a research project and also share any feedback or concerns with the project manager.  The service is designed to increase public trust in research and encourage greater participation.  The Research Verification Services is included as a member benefit for all CRIC members.  The service is available to non-members for a fee of $500 for the first project each year and $100 for each additional project.
Additional Value through Strategic Partnerships
CRIC has developed a strategic partnership with ESOMAR to engage Canadian researchers with the global insights' community.  As part of this partnership, CRIC has adopted the ICC/ESOMAR Code on Market, Opinion and Social Research and Data Analytics and will have a seat on ESOMAR's Professional Standards Committee.  This relationship also provides a pathway for Canadian insights and analytics professionals to join ESOMAR and access the knowledge and thought leadership inherent in ESOMAR's global networked community.  CRIC members are entitled to special pricing when registering their staff for an ESOMAR membership.
CRIC endorses and supports CAIP Canada to offer the Certified Analytics and Insights Professional (CAIP) designation.  It also supports the Marketing Research Institute International (MRII) the leading provider of market research and insights education globally.  CRIC will continue to pursue complementary partnerships both domestically and internationally to increase the value it offers members.
Member Savings
CRIC has negotiated an agreement with PROLINK to offer an insurance program that addresses the unique risks faced by members.  Members can expect to save 20% or more on standard market rates exclusively through the CRIC Insurance Program from PROLINK.
CRIC will also be looking to partner with other organizations to offer additional benefits to members and their staff through the CRIC Member Savings program.
And more
CRIC is working to continue to grow its value proposition and more programs will be announced over the next few months.  We also encourage you to Contact Us to provide feedback on our current programs and share your ideas on additional ways that CRIC can offer value.