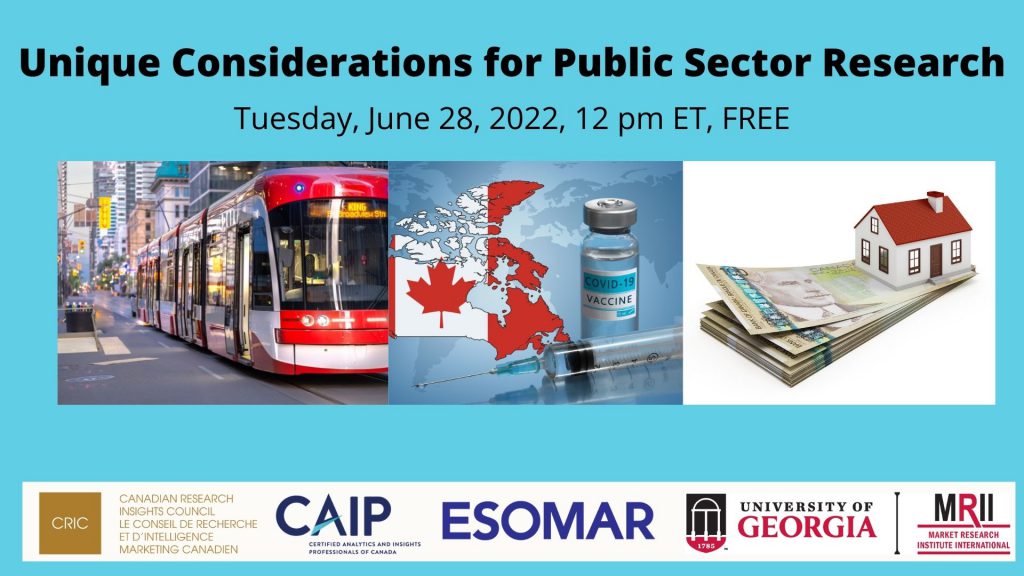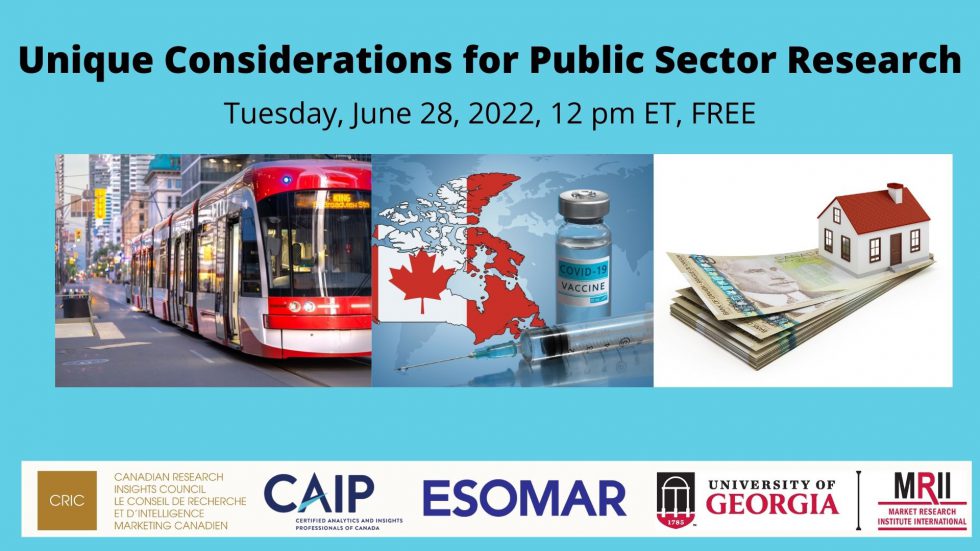 Unique Considerations for Public Sector Research
What unique considerations are there in terms of conducting research for the public sector in Canada? What makes the government a special user of research? How is program evaluation different from measuring citizen satisfaction, and does program evaluation connect with public opinion research for government? What is the research procurement process in government, and what is a "Standing Offer"? Does research for Crown Corporations differ from other public sector organizations? What specific value-added competencies can be gained from conducting research for public sector organizations? What are the principal tasks of public sector research in Canada? (Policy development? Policy assessment? Advertising recall and performance? Etc.) This set of presentations from diverse industry leaders, individuals who have worked in or served the public sector over the years, will offer insights into conducting research for the three levels of government in Canada (federal, provincial, municipal).
Topics covered will include: Public opinion research from a supplier's perspective, program evaluation and public administration including the evolution of budgets in public sector research, a day in the life of a provincial government researcher, how and why governments collect/use data for planning, decision-making and communicating, specific projects and research findings with relation to speed and scale of the work and how research vendors can meet governments' needs to do good work in the provinces, how research is used by the federal government and the gold standards in doing research for the federal government, similarities and differences between public opinion research and consumer research and opportunities to grow careers in research with the federal government.
Presenters will include: Kelly Bennett, Government of Nova Scotia, Christopher Adams, PhD, CAIP, University of Manitoba, Peter MacIntosh, CAIP, Narrative Research, and Nathaniel Stone, CAIP, FCRIC, Algonquin College.
Who is it for? All those looking to learn about how doing research for governments is different, what processes are like and how it impacts policy, and careers for research professionals.
Unique Considerations for Public Sector Research