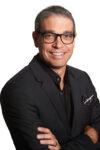 Chief Product Officer – Sago
In Steve Mast's 20+ years as an executive, he knows the importance of balancing human needs with business ones. Originally trained in architecture, Steve's career evolved into game design and ultimately marketing and innovation. Steve is a holistic leader who has had many business functions under his purview. His current leadership roles include Chief Product Officer at Sago, President of Delvinia, and Past-Chair of the Board at the Canadian Marketing Association.
Steve guides organizations through transformation and believes in taking a future-forward approach to leadership, working to be ahead of the curve. Steve's philosophy is simple—success is measured by what you do and not what you say. He aims to motivate through inspiration and critique with empathy as he knows people are the backbone of any great organization and essential to true innovation.