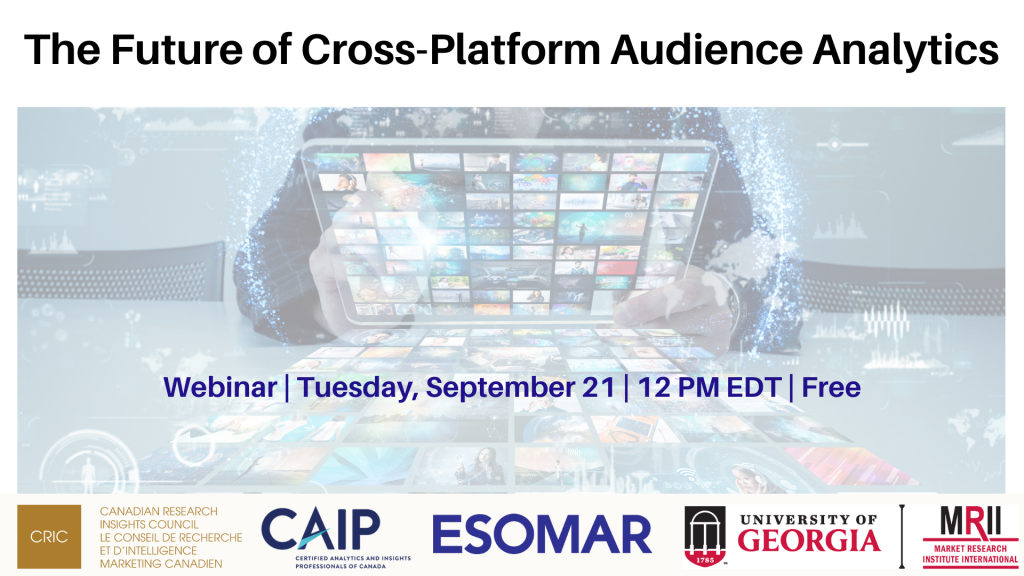 The Future of Cross-Platform Audience Analytics
Tuesday, September 21, 2021; 12 PM EDT
Speakers:
Judy Davey, Vice President, Media Policy and Marketing Capabilities, Association of Canadian Advertisers; Presentation title: "Cross Media Measurement – What Advertisers Want"
Josh Cormie, Executive Vice President, Audience Measurement Service Line Lead, Ipsos Canada; Presentation title: "A Person Centric Approach to Cross-Platform Measurement"
Catherine Malo, Senior Vice President, Cross-Media Business Development & Communications, Numeris; Presentation title: "Bringing Cross-Platform, Cross-Media Audience Measurement to Canada" 
Alexander Johnston , Manager, Audience Insights Specialist, Royal Ontario Museum;
(Host and Moderator) Arundati Dandapani, CIO of CRIC and COO of CAIP
Format: Each presenter will speak for 10-15 mins and then it will be followed by a moderated discussion and then Q-A.
Topics covered during the webinar:
Audience measurement remains among the top marketing research services demanded by clients in North America according to the ESOMAR Global Market Research Report. The pandemic saw a surge in cross-platform media adoption, even as trust in media waned, as the pace and velocity of information (and misinformation) grew.
This webinar will feature leaders in unique roles in data, insights and analytics to help us understand the future of audience measurement from traditional channels to digital behaviours (active and passive).
The presenters will discuss the opportunities and challenges of cross-platform audience measurement as cross-platform viewing continues to soar. With the goal of improving advertising effectiveness, the presenters will discuss topics such as methodological innovation design, client objectives, product outcomes, targeting audiences and respondents, and maintaining and growing consumer bases.
The Future of Cross-Platform Audience Analytics