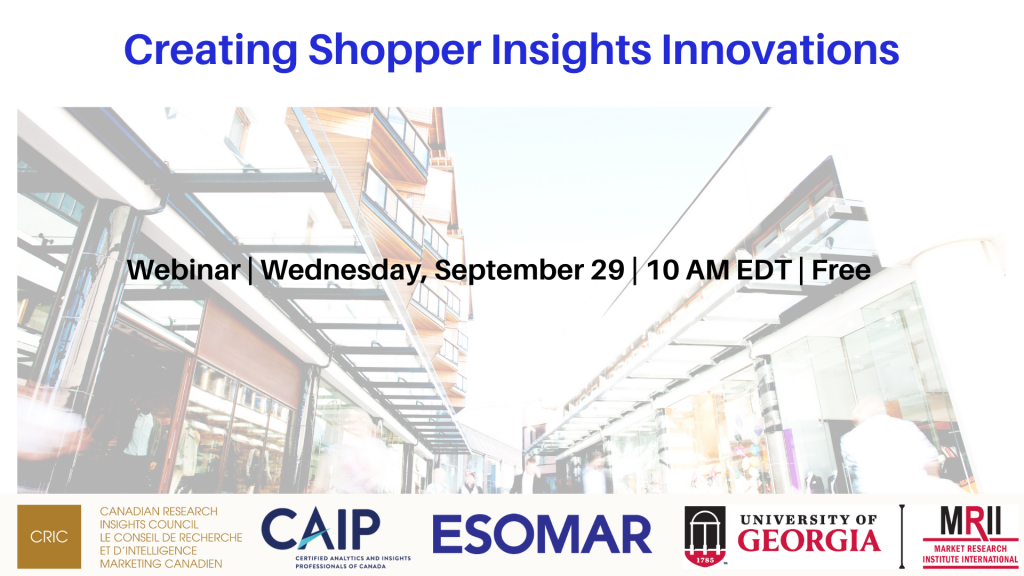 Creating Shopper Insights Innovations
Wednesday, September 29, 2021; 10 AM EDT
You may register to attend this free event live,  and / or view the recording of this event on-demand post your registration below. 
Read this article published by Retail Insider for some context on the topics that will be discussed.
Speakers:
Susan Seto, Senior Vice President, Environics Research; Mark Juhasz, Ph.D., Founder and Principal, Harvest Insights; Gera Nevolovich, Chief Commercial Officer and Kaylee Boulton, Director, Behavioural Science, Hotspex; Host and Moderator Arundati Dandapani, CIO of CRIC and COO of CAIP
Format: Each presentation will last 15 minutes followed by an interval of an audience Q-A, followed by a moderated discussion on future trends, opportunities and outlook on shopper insights innovations.
Topics covered:
Research in shopper insights is reliant on many factors including which innovations succeed and which ones don't resonate with the target markets. Is there a blueprint for innovation in shopper insights and what opportunities exist to improve their successes? This webinar will bring together shopper insights innovations research experts who will present data, case studies and examples that showcase innovation thinking in retail.
What are shopper insights innovations and what retail sectors do they cover?
What are some key drivers of influence in shopper behaviour?
What drives innovation in shopper insights?
What has been the impact of shopper insights innovations on consumers, brands and the competitive landscape?
What behavioural science techniques can be leveraged in combination with or in isolation of other methods to get deeper and more timely/relevant shopper insights?
What does the future of shopper insights innovation research look like post the pandemic?
What other trends are going to impact shopper insights?

Sustainability
Brand memorability
The rise of certain industries
Direct to consumer channels of distribution
Digital commerce habits
Creating Shopper Insights Innovations