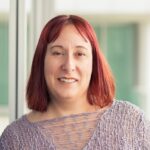 Principal Consultant at Advanis
Lori's goal in research engagements is to bridge the gap between business need and research method by finding the sweet spot of a rigorous research method, impactful research results and a highly digestible story. Being cross trained in qualitative and quantitative research, she provides a unique perspective of both 'what' and 'why'.
She has engaged in research projects in thought leadership, UX, product design, pricing behavior, customer experience and brand equity. Her work focuses on the impact of technology across a variety of industries.
Lori is also training the next generation of marketers, teaching at several Ontario colleges. She can also be found on a roller derby track or at a karate dojo.