The Future of Insights is Faster, Closer and More Promising than Before.
By Arundati Dandapani, MLitt, CAIP
In 2019, I was pleasantly surprised to be on the GreenBook's inaugural Future List and found myself boarding a busy flight for the great city of Austin, Texas to present a research paper. Pandemic dog-years later in the past week, I found myself drawn again to the opportunity to revisit the remodelled, re-conceived IIeX 2022 conference, to reevaluate what conferences mean for today's trusted, data-driven industry professionals and insights leaders. Even as this meant making the 12-hour journey (each way) by flight to the wonderful city of Austin and back to Toronto!

I loved Will Leach's advice at his opening of not taking notes, but instead to take every worthy insight from the conference back to its creator, propelling a common (face-to-face) conversation on what resonated most. Misty Wilson, the co-emcee also talked about the power of data in bringing people together, and this reflected in the vendor and content showcase interspersed efficiently with each other on the same floor, weaving a common language of data between trade show exhibitors and presenters, given that 50% of the conference's attendees were also presenters! Talk about co-creation.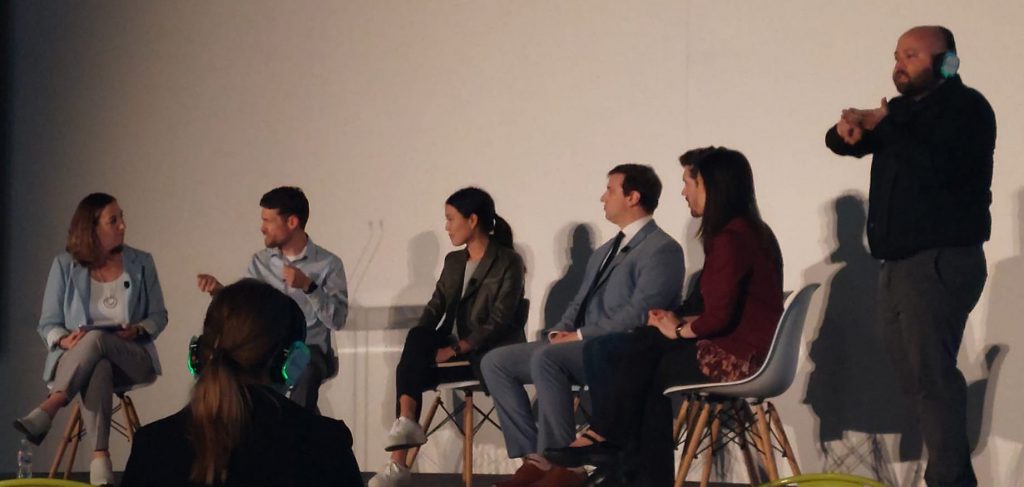 Five key insights sprang up from all the collaboration, close-knit crowd and content at this global insights conference of 1000+ attendees, and from some of the sessions:
Trends are excellent but study their larger purpose to contextualize your learnings for the future. Some questions to help you understand them better include: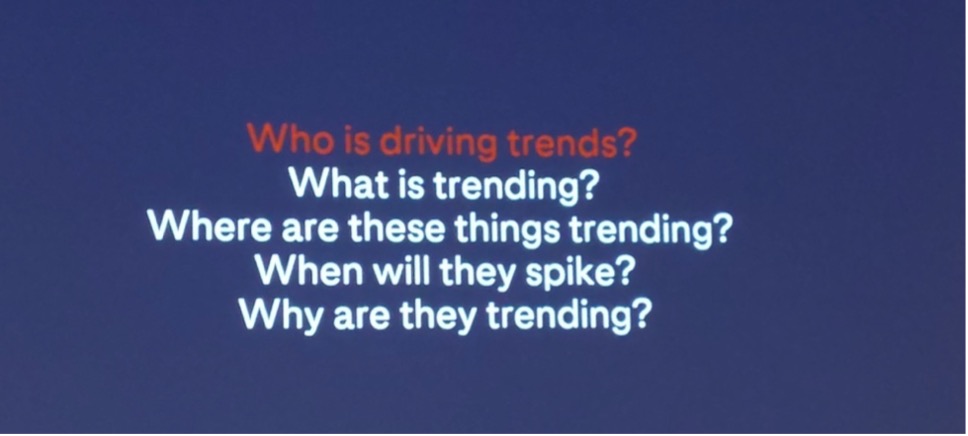 Differentiate your trends by asking the above questions that Pinterest asks itself as it builds its own ROI (return on inspiration). It is the "why" questions that will always be answered using qualitative approaches.
The relationship between quantitative and qualitative research as a mutual process leading to convergence was another theme that emerged through the sessions.
Mindsets must change before anything else changes:
If we have to elicit more honest answers, respect for the consumer, respondent or research participant must grow and we need to incorporate empathy and a genuine mindset to learn how they see the world. Clients and suppliers may have different definitions of the same industry buzzword but understanding this disconnect is the first step in improving the relationship. What clients call insights-technology (or intech) is what suppliers might refer to as research-technology (research tech) in an industry that's always been very steeped in jargon (whether it's method oriented or tech / tool / platform related).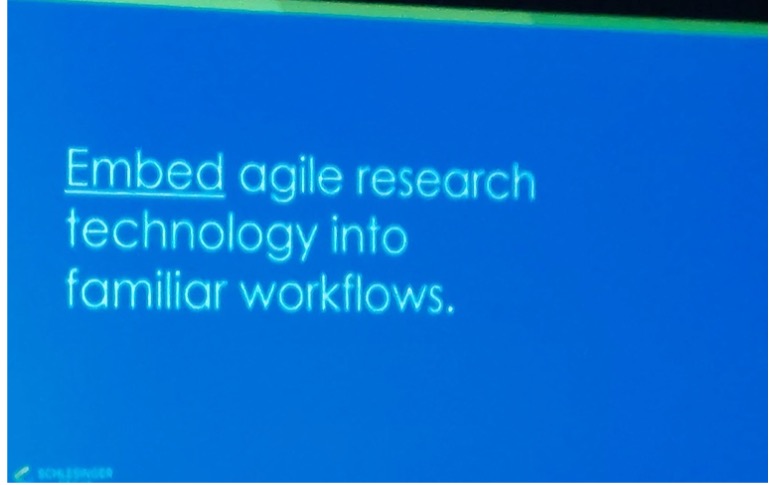 Technology is an enabler, foster it:
We have come a long way from before the internet and from when the first e-commerce transaction by credit-card was made in 1994. If the highest rates of industry growth are led by the technology-enabled research, analytics and insights sector globally, we must grow the engagement and understanding of new and emerging techniques and technologies, to educate ourselves and others on the implications for doing research. Coming straight out of a virtual graduates research forum and witnessing the same range of technologies mirrored in "real time" industry, was testament to the skills and competencies required of commercial researchers today.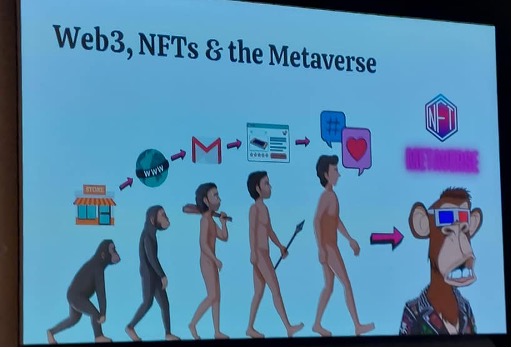 The next thing to do is start your brand's own non-fungible token (NFT) community to "cream skim" your most fervent fans and loyal customers and share ownership of brand clout and craft meaningful relationships by understanding them better through "web3," suggested Matt Bell of Bell Interactive.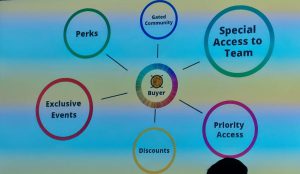 .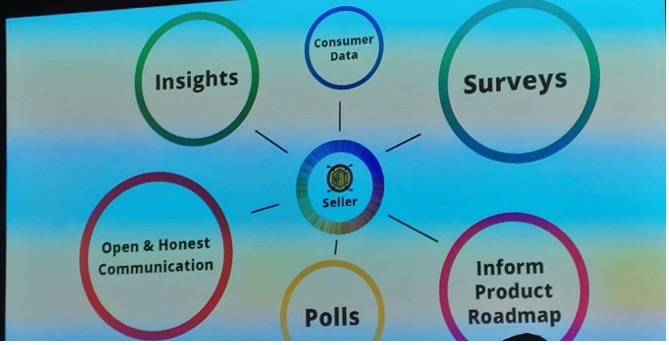 Human behaviour is preceded by identity, a dynamic yet also glacial entity:

Identity is dynamic, but old habits also die hard. A large part of "knowing" your consumers, clients, citizens, and employees comes from understanding their motivations, aspirations, values and looking at the world from their lens and not yours.

This was referred to repeatedly through frameworks like jobs-to-be-done, trend-hunting, more qualitative UX research and deep ethnography, and tips and tricks that unravel human behaviour with fast competing behavioural science methods across use-cases in AI-driven ad-testing, package-testing, predictive analytics and deep quantitative big data and qualitative tools, paving the way for new partnerships as business, technology and human dynamics evolve.
This must change because the world of insights is a bigger industry than Hollywood by almost a factor of five! The degrees of separation between the US Hollywood industry and the US insights industry is thanks to "Fame", and the six things the insights industry can do to improve its reputation by learning from Hollywood, according to Lucy Davison of Keen as Mustard, are namely: to create stars, make catchy titles and one-lines, create trailers, improve PR, target messaging for custom audiences, and launch premiers. In Canada with a much smaller home-grown film industry, the disparity is even more acute.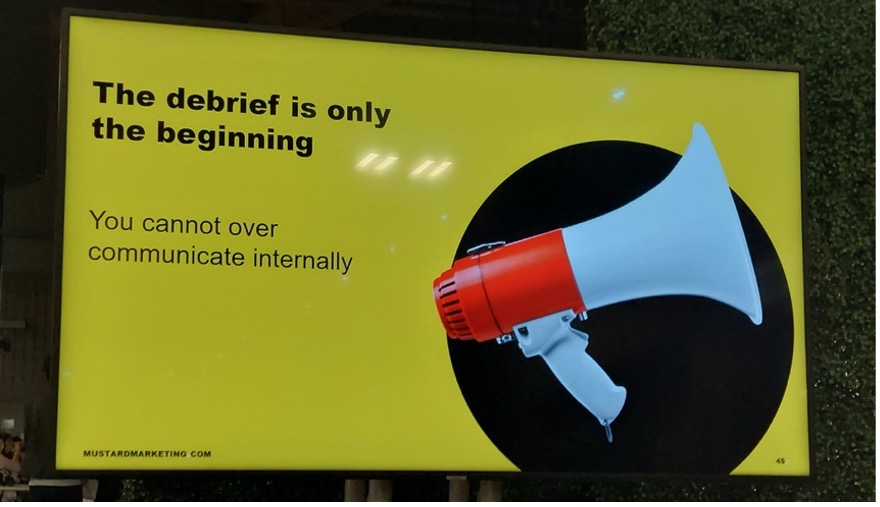 Lucy's presentation made me want to curate every social media page into a newsletter, and issue more internal communications to bridge the knowledge gaps we carry along from pre-pandemic mindsets. The trouble with insights is that although it is a top priority for business leaders, the satisfaction level with its practice is so low globally, pointed out Fuel Cycle's Rick Kelly in his annual state of the industry report. The lack of insights storytelling and integration into workflows across departments is responsible for this.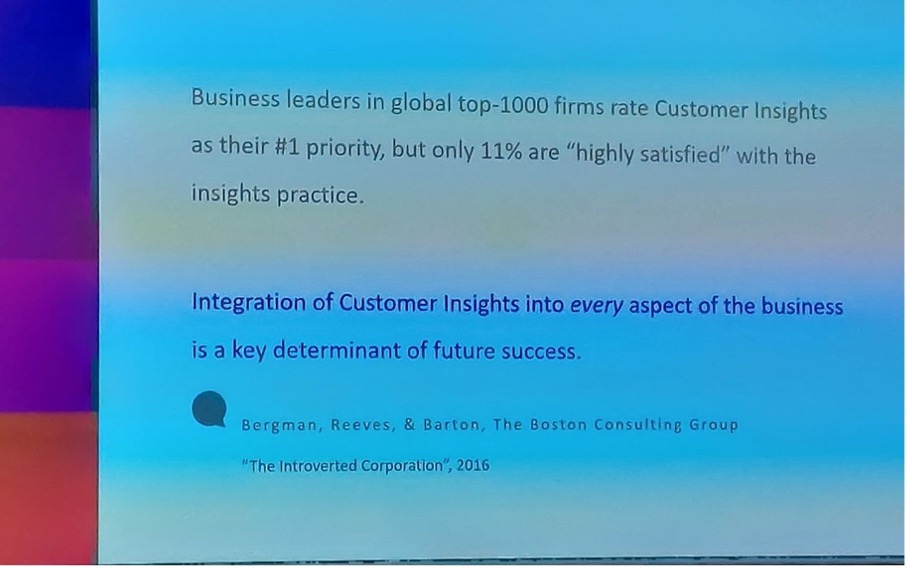 Privacy is a human right, so do not be afraid to demand better from your clients, suppliers, partners, and everyone else in your ecosystem:
The pandemic taught everyone how collaboration ought to be an enabler, and that competition must exist to foster collaboration and new partnerships rather than widen gaps and gaping inequities. Respondent, consumer and data subject rights are at the centre of ethical research. Automated decision-making poses new problems and humans must do a better job of trying to offload the deep-quantitative, big-data focused, repetitive mechanical work to the robots to free up human capacity for creative knowledge-oriented judgment and decision-making. Human bias is less harmful than machine-bias because human bias can be corrected, accounted for, or controlled. A principles-led approach to privacy will always keep human researchers prepared for when unprecedented technologies, techniques and their resulting quandaries enter the marketplace and pose new dilemmas to its industry professionals before there are best practices. Look to your national association, e.g., CRIC in Canada works with leading experts to deliver member-specific privacy and information security guidelines for your organization, and ESOMAR globally for guidance.
The insights were rich and the conversations impactful. It was clearly no understatement that when everyone I met said the same thing at least once, "so great to meet everyone (back) in person!" This included people we hadn't met before and only online, and that was an enjoyable experience as well.
Finally, no matter who you are, don't forget to register your health information on ArriveCan before entering into Canada from "abroad". Thanks Michael Brereton for that last minute reminder, and also for the witty discussion on "brain drain".
Thanks to GreenBook for hosting this! Shoutout as well to CRIC-CAIP, UGA-MRII, WIRe, ESOMAR, EMI Research Solutions, Hotspex + Hotspex Media (courtesy the Formula1 go-karting night and cover photo from the Circuit of the Americas), Cadillac Fairview, Keen as Mustard and others who partook in our parallel activities, only proving Reality Mine CEO Chris Havemann's point that your conference is a true success when people create spin-off gatherings and sub-cultures around it.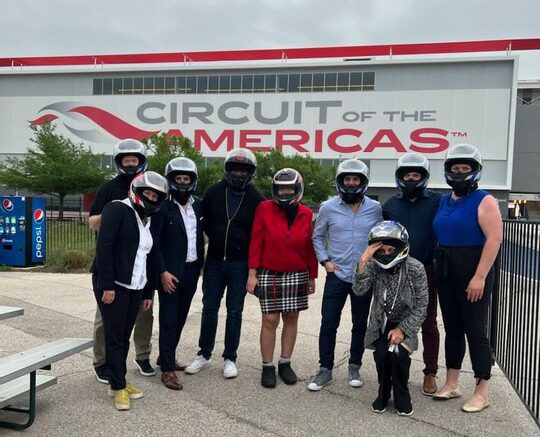 Looking forward to the next insights trip and adventure! Although, some of us won't need to experience any jet lag on that one.