Exhibit Floor Map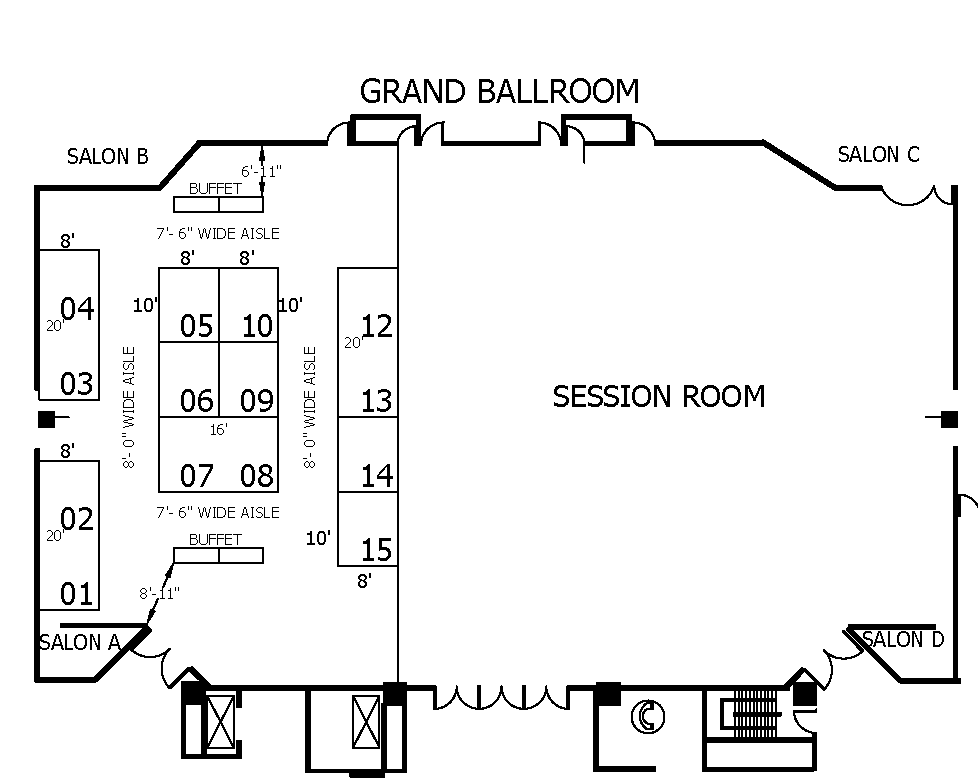 Exhibit terms & Conditions
Exhibit Booths: Each booth space will be equipped with a standard booth, back wall 8 feet high, and side rails 3 feet high, covered with flame-proofed drapes, a 1 – 1500 watt electrical duplex outlet, one 6-foot skirted table, and 2 chairs. Booth size: 5′ deep and 8′ wide (unless noted on a premium end-cap). Booth height will have a maximum height of 8 feet.
Assignment of Space: Booths are assigned on a "first-come/first-served" basis. Location compatibility is at the discretion of the Conference management.
Installation: Displays can be set up beginning at 8:00 pm, Sunday, June 4th, 2023, and should be in place and completed by 11:59 pm.
Dismantling: No display should be dismantled before the official closing time of 5:00 pm on Tuesday, June 5th, 2023. All exhibit material must be packed and removed from the exhibition floor by 7:00 pm on the same day.
Location: Marriott Toronto Eaton Centre – Grand Ballroom C/D
Display Contractor: The firm Encore Global has been appointed Official Supplier of Exhibit Services and equipment. A full range of services and prices will be sent to you in your Exhibitor Handbook in April 2023. Exhibitor assumes the entire responsibility and liability for loses, damages, and claims arising out of injury to persons or damage to the exhibitor's
display, equipment, or other property brought upon the premises of the venue and its owners, servants, agents, and employees against all claims or expense for such losses, including reasonable attorney's fees, arising out of the venue premises excluding any liability caused by the negligence of the Group or the venue or its owners, servants, agents, and employees.
Liability & Insurance: The Exhibitor shall obtain and maintain at its own expense a comprehensive general liability and all risk property insurance policy acceptable to CRIC for the period commencing on the first move-in date and terminating on the last move-out date. The policy shall name CRIC as loss insured and insure the Exhibitor against all claims of any kind arising from or in any way connected with the Exhibitor's presence or operations at the trade show. The policy shall provide coverage a minimum of $1,000,000.00 for each separate occurrence. At the request of the CRIC, the Exhibitor shall provide CRIC with a copy of such policy.
Shipping & Storage: Materials cannot be shipped directly to Marriott Toronto Eaton Centre as there is no site storage. Shipping can be arranged through Encore Global and cost information will be provided in your exhibitor package. It will be the exhibitor's responsibility to move all materials to the booth location prior to set-up time unless it has been prearranged with Encore Global Marriott Toronto Eaton Centre does not handle exhibitors' goods.
Material Handling: Drayage and material handling services are only provided by Encore Global. These services include transporting material to the exhibitor's booth location, removal of crates, return of crates to booths at the close of the show as well as receiving of advance shipments at their warehouse. Complete Encore Global information for shipping and storage information will be included in your CRIC Exhibitors Handbook. 
Show Closing: Repacked material will be moved from Marriott Toronto Eaton Centre and shipped according to the exhibitor's instructions. Charges for these services are the responsibility of the exhibitor. Please contact Encore Global for details.
Electrical & Internet Connections: 1 – 1500 watt electrical duplex outlet will be included with each booth. Internet and additional electricity may be ordered directly with the Encore Global.
Refund & Cancellation Policy: Notice of cancellation must be made in writing (no exceptions) and sent to CRIC Conference Manager. Cancellations received by 5:00 pm April 1st, 2023 will be refunded 50% of the cost of the booth, and no refund will be given on any date thereafter. A decrease in rental space is considered to be the equivalent of a cancellation.
Sublet of Space: No exhibitor shall assign or sublet the whole or any part of the assigned space.