Advances in ResTech: Report automation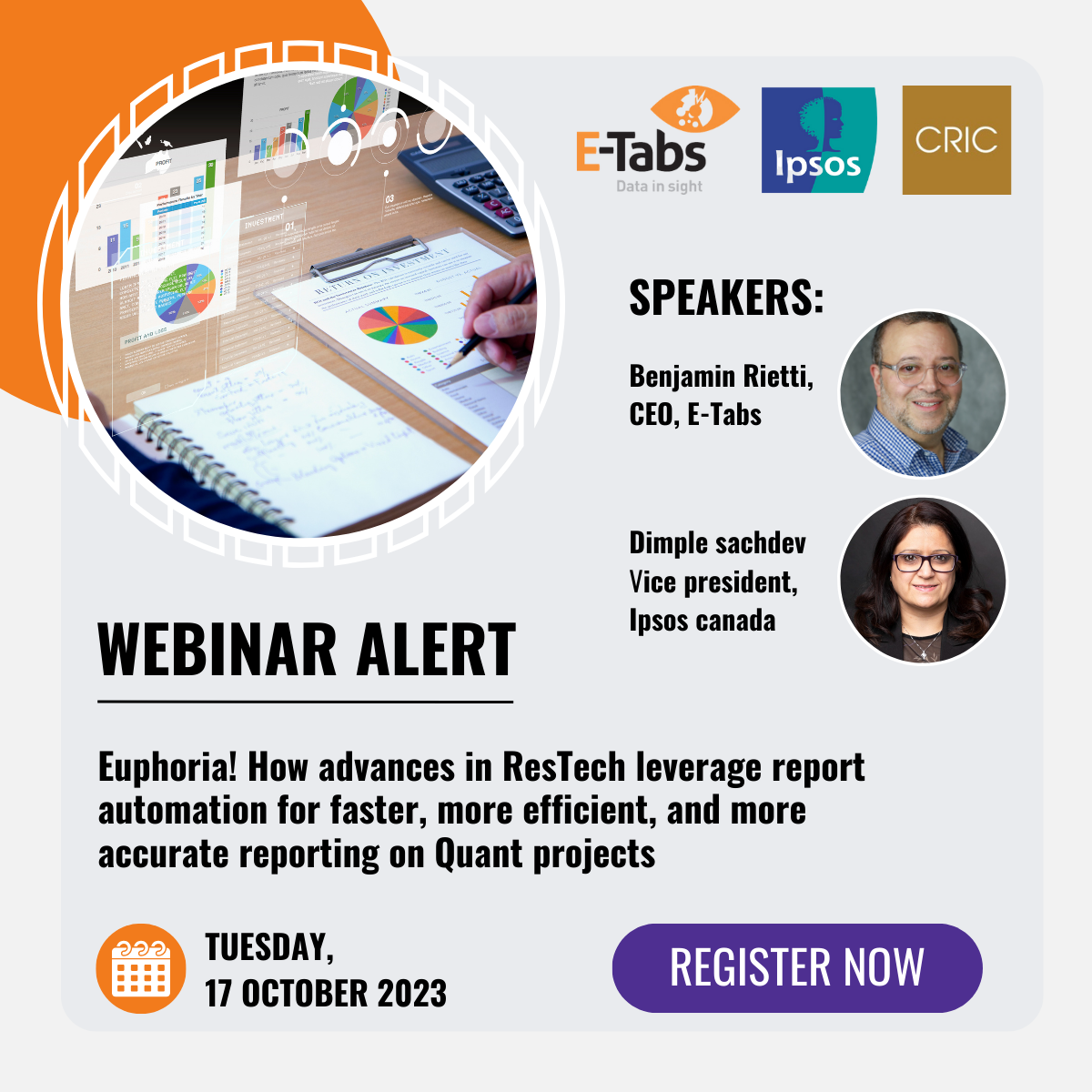 Reporting is often one of the most time and labor intensive parts of market research, particularly for multi-country, frequent-cadence tracking studies.  In the past it'd be "all hands on deck" to populate hundreds of pages of reports and many layers of reviews to ensure accuracy, and weeks of time.   With report automation, if done properly, this time can be cut down to a matter of hours or even minutes.  While the time saved is exciting in itself, especially for those agency-side who would have previously done the task manually, it benefits the clients too.
This joint presentation between Ipsos and E-Tabs will include a client case study highlighting the advances and lessons learned in reporting technology that can now even take place in the Cloud and be leveraged by multiple platforms to better their charting experiences – with huge efficiency gains both for continuous and ad-hoc studies.
Suppliers can truly bring speed to insights, with fully populated, polished reports days after closing field.
With the significantly reduced labor involved, savings can be passed along to clients who will be getting the same volume and quality of reports but now have additional budget to utilize elsewhere.
By reducing the human element significantly, accuracy is guaranteed without spending hours checking and re-checking.
Strategically, more time can be dedicated to the story and insights that the data is telling rather than the charting itself.
Include a feedback loop where lessons can be learned from integrating ResTech solutions into the reporting process
Dimple Sachdev
Dimple Sachdev is Vice President at Ipsos Canada.  She has a long standing research career in project and process execution, operations and capabilities leadership.  Dimple is knowledgeable in survey, sample and study design and research processes.  She is well versed in research tools and technology to enhance quality and best practices on client deliverables.
Dimple graduated from the University of Waterloo, with an undergraduate degree in Microbiology with minor in Computer Science.  She also holds a graduate degree in Management of Technology from the University of Waterloo.  She holds CAIP designation and is a certified and practicing Project Management Professional (PMP®) and trainer with good standing for over 10 years.
Benjamin Rietti
Benjamin is CEO and founder of E-Tabs.  With 30 years' experience at the crossroads between market research and innovative technology, Benjamin is a keen entrepreneur and doting family man. A regular presenter at industry events, Benjamin has a passion for leveraging software solutions to empower researchers and insights professionals to be work more efficiently and ensure maximum productivity.  
Tuesday, October 17, 2023 @12:00 pm ET