Client Perspectives
Recorded February 26, 2021 – 12:00pm-1:00pm (Eastern Daylight Time) – recording available on demand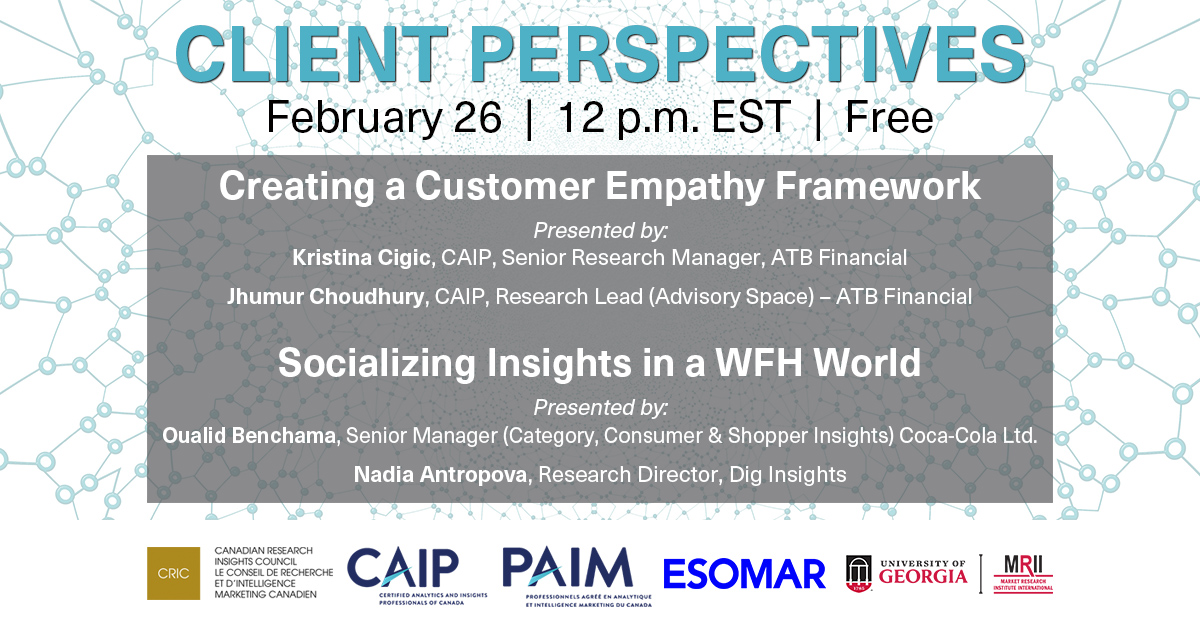 How do you anticipate customer needs before they happen?
How do you ensure insights get integrated into strategies across the organization in a work from home environment?
This webinar featured two presentations led by client-side insights leaders who answered these questions and more.
Creating a Customer Emphathy Framework
Segments and personas are not new concepts. They are widely used across our industry and others as tools for planning and empathizing. ATB's Insights & Research team's approach to segments/personas is more unique. We've taken it a few steps further by incorporating consumer and business life stages into the framework, allowing us to speak to various strategic levels within the organization and link it to already existing data to make strategic decisions like capital spend, prioritizing initiatives etc. Our Customer Empathy Framework has allowed us to 'right size' our market, identify specific segments of opportunity, anticipate customer needs before they happen and amplify our story telling.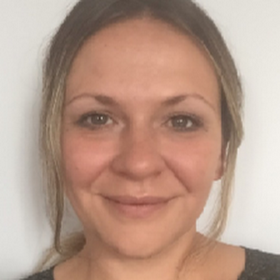 Kristina Cigic, CAIP
Kristina is a Senior Research Manager at ATB Financial with over a decade of experience in Market Research, CX and UX. She specializes in telling effective stories through data in a way that truly drives decisions and embracing new/unconventional methods to get at the heart of insight. Kristina was previously an MRIA Alberta board member and contributor to the Emerging Leaders Task Force. She has been a member of CAIP Canada for the past year. She has contributed to creating insight for the public sector, non profit and financial services.
Jhumur Choudhury, CAIP
Jhumur is in the business of making customer's lives easier through the implementation of UX and CX research practices. In her current role as the research lead for the Advisory space at ATB Financial, Jhumur loves to represent the Voice of the Customer with courage and candour to further corporate objectives. She is one of the founding members of the Customer Experience Professional Association, Calgary Network and used to be the Events chair of MRIA in the past and is a current member of CAIP Canada. Jhumur has more than 14 years of experience as an insights professional, and has worked in multiple geographies and for multiple clients/employers including multinational corporations,fintechs, telcos, banks as well as not-for-profit. She also feels lucky that through her profession she has a huge opportunity to give back to society. She regularly uses her design thinking and professional moderating skills to develop better solutions to social problems.
Socializing insights in a WFH world
During this uncertain time, The Coca-Cola Company not only stays on top of the latest tools, technology, and data collection methods to elevate the respondent experience, but also tries new approaches to socializing insights. The session provides an example of how Coca-Cola has partnered with Dig Insights to successfully roll out insights from a large-scale project following these 3 pillars:
Think big: leveraged technology and the latest advancements to increase the quality of insights.
Elevated the existing protocol beyond current practices (expand sample size and subgroups to get in-depth insights).
Used a mobile-first diary to capture respondents in the moment of truth.
Leveraged technology to simplify a respondent experience.
Accounted for real-life consumer behaviours in building the sampling plan (accounting for natural beverage habits and seasonality).
Think small: used a staged approach to socializing insights by breaking-down sessions into logically connected themes.
Had a good balance of "sit & listen" and "roll up the sleeves" sessions.
Explained when and how to use project materials with an immersive and interactive virtual roll-out (teaching the team how to 'fish').
Make it Integral: provided strategic integration of the program into existing processes and plans.
Inputs fed directly the 'HOW to WIN' category & brand plans by prioritizing the growth levers based on attractiveness and rights to win.
Guided innovation strategies by prioritizing the innovation pathways to streamline the 3-year pipeline planning.
Produced a prioritization playbook that linked up to the long-range planning and 3-year growth roadmap to guide resources allocation in the areas of marketing investment and innovation momentum.
Oualid Benchama, Senior Manager (Category, Consumer & Shopper Insights), Coca-Cola Ltd.
Oualid is the lead of the human insights at Coca-Cola. Few years ago, he joined the Canadian business unit after immigrating from Morocco, where he looked after marketing for the sparkling portfolio. He championed internally the creative thinking and well-being for the Middle East & North Africa region.
Oualid spent his 10+ years experience equally between the human insights and the brand building functions, operating in culturally diverse and different markets in Africa, Middle East and North America, driven by his passion for innovative thinking, grounding business decision-making into consumer & human centricity; and the thrill in finding and developing talent.
When he's not working, Oualid is likely pursuing his creative writing certificates, creating stories and scripts, perfecting his French baking skills, passionately debating the cinéma d'auteur and reviewing online the best food spots in town.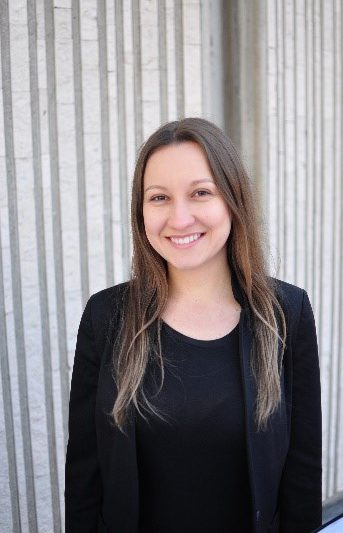 Nadia Antropova, Research Director, Dig insights Inc.
Nadia is leading large-scale projects at Dig Insights that provide clients with the knowledge they need to develop short- and long-term strategies to grow their business. She is also helping clients integrate AI, machine learning, and behavioural economics tools and approaches in their research practices. Prior to joining Dig Insights, Nadia worked for a boutique research firm in Toronto where she was helping clients to develop new products, optimize their product portfolios, identify target consumers, understand market landscape, and develop communication strategies.
Register to view this webinar on demand
Pour obtenir de plus amples renseignements, communiquez avec John Tabone, dirigeant principal de l'administration, à l'adresse